Home --> Mac Data Recovery Software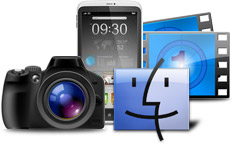 Mac Data Recovery Software
Mac Digital Pictures Recovery Software
Mac digital picture recovery software enables you to recover deleted, lost or missing pictures, photos and snaps from memory cards, hard disk, USB drives and removable storage devices.
Mac Digital Camera Data Recovery Software
Mac digital camera data recovery software helps you to get back your lost precious photographs, snapshots, pictures and images from digital camera.
Mac Memory Card Recovery Software
Mac memory card data recovery software is reliable application that quickly retrieves your accidentally deleted pictures, photographs, images, mp3/mp4 files from inaccessible memory cards.
Mac Pen Drive Recovery Software
USB drive data recovery software for Mac is specially designed and developed to salvage your lost valuable data like text documents, pictures, audio, video and other files from USB storage device.
Mac Removable Media Recovery Software
Mac removable media data recovery software helps you to get back your lost crucial data from pen drives, jump drives, memory cards, memory sticks and other removable storage media.
Mac Mobile Phone Recovery Software
Mobile phone data recovery software is useful program that recovers your all lost, deleted or missing inbuilt phone data and memory card saved files in convenient way.