Home --->

Data Recovery Software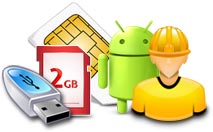 Data Recovery Software
Digital Camera Recovery Software
Digital Camera recovery Software is an economical and efficient software solution to get back your favourite digital photographs, pictures, snaps etc lost due to human faults, logical error, or when memory card is removed while digital camera is in running mode.
Memory Card Recovery Software
Memory Card Recovery Software regains and restores the entire erased or missing text, images, pictures, photos, media files from logically corrupted memory cards like Compact Flash Cards, Secure Digital Cards, Memory Stick Cards, MMC Multimedia Cards, xD Picture Cards etc.
Android Recovery Software
Android data recovery software is non-destructive program that offers complete recovery of lost data from android technology based devices including android tablet PC, android mobile phone and other android devices.
Mobile Phone Recovery Software
Mobile phone data recovery software is developed for cell phone users who want to recover their lost, missing or lost files from mobile phone. Mobile phone recovery software quickly retrieves all lost data just in few easy steps.
NTFS Recovery Software
NTFS Recovery Software is a robust and reliable solution to revive and restore the entire pictures, photos, videos, songs, text etc from corrupted, formatted, and logically damaged or virus infected Windows NTFS hard disk partitioned drives.
DDR Professional Recovery Software
Complete and instant solution for all your data loss problems and easily retrieve files from logically damaged and inaccessible hard disk or any removable media including USB media drives, memory cards, digi cams, music players etc using simple step by step recovery wizard.
Pen Drive Recovery Software
Pen Drive Recovery Software is a simple, read only non-destructive utility to undelete all the deleted, erased or missing files from your damaged, formatted or files wiped by software virus and smoothly works with all branded USB data drives.
iPod Recovery Software
iPod Recovery Software regains and restores the entire lost files (wav, midi, mp3, aac) and folders, photos and pictures from all versions of Apple iPod models including iPod Shuffle, iPod Mini, iPod Nano and other equivalent devices.
Removable Media Recovery Software
Removable Media Recovery Software is an easy to use, impressive application utility that regains all the accidently deleted, erased or misplaced data and information from your infected or erased disk due to virus or damaged USB removable mass storage devices.
Sim Card Recovery Software
Sim Card Recovery Software allows you to recover and restore the entire deleted, erased or missing data from your mobile sim card including phone book, sms, dialed numbers with time and date, service provider name, card identification number etc.
Zune Music Recovery Software
Zune Music Recovery Software is a prominent and profitable program to retrieve your missing or accidently erased music files, video songs, pictures and photos from your corrupted Zune music players with support to all zune digital media player.
FAT Recovery Software
FAT Recovery Software undelete your lost, accidently deleted or missing files and folders from the inaccessible, corrupted or formatted FAT partition hard disk drives with support to all major SCSI, SATA, IDE, ATA and EIDE disk drives.
☞Quick Links